Dublin Mountains Way
Dublin Mountains Way
Introduction:
One of the flagship projects of the Dublin Mountains Partnership is the establishment of a long distance trail, the Dublin Mountains Way (DMW), across the mountains from Shankill in the east to Tallaght (Sean Walsh Park) in the west, in all approximately 40 kilometres of trail . The DMW has been an objective of the local authorities for close to twenty years and with the formation of the partnership it has been realised. This project has been achieved through the cooperation of Coillte, Dun Laoghaire Rathdown County Council, South Dublin County Council, Dublin City Council and some private landowners.
The Dublin Mountains Way was officially opened from Shankill to Tallaght on 31st October 2010. The entire route from Shankill to Tallaght is now fully waymarked. This route will be classified as one of the national waymarked ways and is waymarked with the standard yellow walking man symbol. The sections where the Wicklow Way and Dublin Mountains Way run alongside is signed with DMW and WW to avoid confusion.
To take a preview of the route watch the Tracks & Trails series - Dublin Mountains Way episode with Ken Doherty and Fair City actress Ciara O'Callaghan. Click here
Map of the Dublin Mountains Way
The Dublin Mountains Partnership have collaborated with East West mapping to produce a Dublin Mountains public lands access map which details all public access lands, the Dublin Mountains Way, the Wicklow Way, car parks, access points and outdoor recreational facilities. It is available in all good bookshops and outdoor stores at RRP of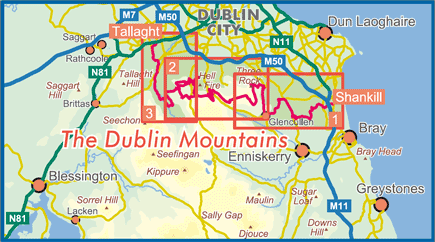 Click on the numbers on the map to view the individual maps for the Dublin Mountain Way or select for the list below.


To read the PDF files you need Adobe Reader installed. Adobe Reader is free software that lets you view and print Adobe Portable Document Format (PDF) files. If you do not have Adobe Reader on your computer, you can download it below.
MAP 1 Shankill - Barnaslingan


Travelling in a westerly direction, the trail starts on the main street in Shankill beside Brady
View from Carrickgollogan

View from The Scalp
MAP 1 Barnaslingan - Fairy Castle
Leaving Barnaslingan Wood, the route heads along the Enniskerry Rd to the village of Kilternan and then upwards to Glencullen. (Please take care on this narrow section of road). With the option of a rest break at Johnny Foxes pub in Glencullen the route continues along the Ballyedmonduff Road until it passes the golf course and enters through private land into private wood.It then emerges onto forest road in Tiknock forest and follows the road until it climbs up to Fairy Castle, via new track,the highest point on the Dublin Mountains Way at 537m.
Barnaslingan
Cairn at Fairy Castle

MAP 2 Fairy Castle - Cruagh
Heading down from Fairy Castle the DMW joins the WW for a small section before the DMW heads northwest towards Tibradden Mtn and the WW continues south to Glencullen forest. The DMW travels across the open mountain to another cairn on top of Tibradden Mountain. This section of the trail was constructed in the autumn of 2008 with financial support from Comhairle na Tuaithe. It is over 2.5 km in length and offers walkers excellent walking on a robust trail constructed to best international practice (modified for Irish conditions) and has already become hugely popular with walkers. The new trail cost over
Tibradden Mtn trail

Cruagh Massy's link
MAP 2 Massy's - Hell Fire Optional Routes
Here there are optional routes through
Massy
The Hell Fire Club
MAP 2 Cruagh - Glenasmole
Leaving Cruagh wood the DMW heads up to the wonderful viewpoint at Killakee and on into Featherbed forest. A new section of trail has recently been opened through the Featherbeds (October 2011). Leaving the forest there are fantastic views over the Wicklow Uplands including Kippure and Corrig Mountains. The route travels down the road to the Piperstown Gap and on across to the Glenasmole valley and the entrance to St. Ann
MAP 3 Glenasmole - Tallaght
The Dublin Mountains Way used to travel down to St. Ann
St. Ann's graveyard

Glenasmole reservoir
Recreation Sites in the Dublin Mountains