Recreation Sites
Photo Credit: Joe Ladrigan for DMP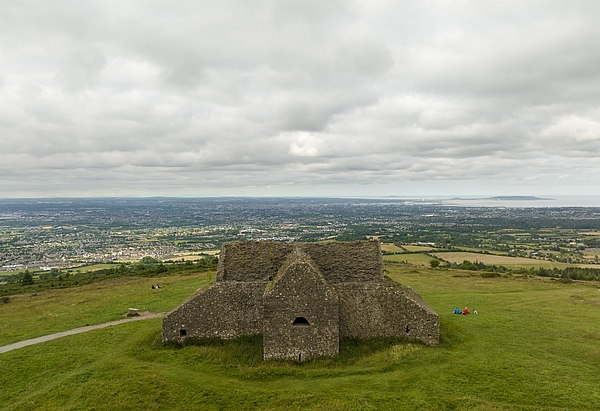 Hell Fire Club Forest Opening Hours from 7th November 07:00 to 17:00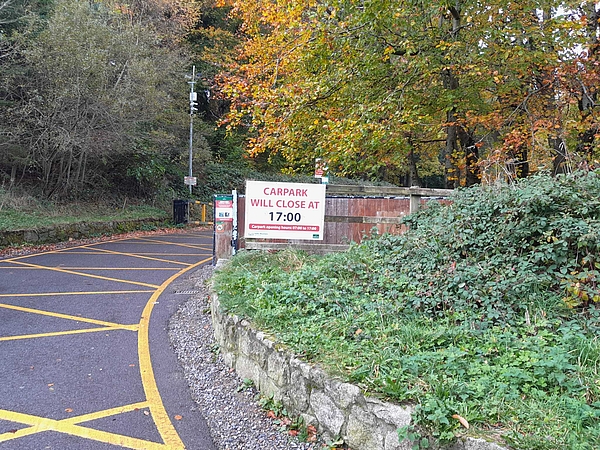 Site Description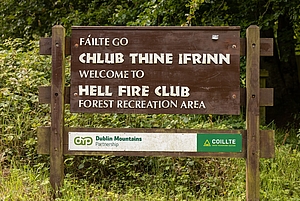 This is a very popular site for Dubliners and offers a variety of short forest walks through the plantation of Sitka spruce, larch and beech. The site is located on Montpelier Hill, overlooking Dublin city from the south west, at an altitude of 383m (1264 ft). There are about 4.5 km of forest roads and tracks.
The entrance from the car park leads to the main forest road, which goes around the top of the mountain. Making your way up the southern slopes of the hill you can enjoy a beautiful view of the Piperstown Gap. You can follow the right fork in the road through coniferous forest where heathers, grouse and furze grow in abundance. Alternatively, the northern slope of the hill offers a view of the valley with ruins of the Montpelier House. The difficulty of walking paths is moderate with the main forest road easily accessible for children and people with lower level of fitness.
There are many smaller forest tracks and shortcuts crossing the forest. All these paths lead either to the main road or to the top of the mountain where a foreboding ruined hunting lodge stands with a breathtaking view over the Dublin Bay. There are many legends associated with this place showing the Hellfire house as an object of occult activities and brief appearances of the Devil. The building was, in fact, erected by R.H. Connolly, Speaker of the Irish House of Parliament, as a shooting lodge, about the year 1725. Tradition tells of its occupation by a club of "wild young gentlemen" who used a tavern in Cork Hill (by Dublin Castle) as their meeting place, but were dismissed for bad behaviour hence the name "Hellfire Club".
Site Features
Walking Trails
Downloadable Maps:
History and Archaeology: check out the ancient and more recent history of the Hell Fire Club on our archaeology pages.
How to get to the Hell Fire Club Forest
Location
Hell Fire Club Forest is located in the Dublin Mountains. The Hell Fire Club Forest car park and the forest entrance is situated about 6.5km south of Rathfarnham on R115 to Glencullen.
National Grid Reference
O 120 238 Understanding grid references
Ordnance Survey Ireland Discovery Series: 50
East West Mapping: Dublin Mountains Map
Parking Information
Car-Park Opening Hours 2021-2022
April to October: 07:00 to 21:00 daily
November to March: 07:00 to 17:00 daily
Parking fee price: None
No of car spaces: 70
Bike stand: 4 spaces
Note: When Met Eireann forecast snow/ice condition warnings are in place the car-park may be closed at short notice. In a Met Eireann 'Red' Wind warning, you should not enter any forest area. Updates on car-park and recreation site closures will be posted on the News page.
Nearby pit stops
A mobile coffee vendor operates in the car-park most weekends.
Timbertrove Café is located north of the Hell Fire Club on the R115 County road.
Recreation Sites in the Dublin Mountains
Archaeology Sites in the Dublin Mountains