Recreation Sites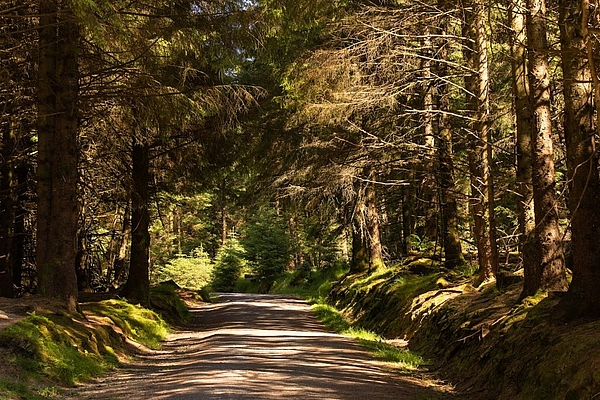 Carpark Opening Hours from 7th November 07:00 to 17:00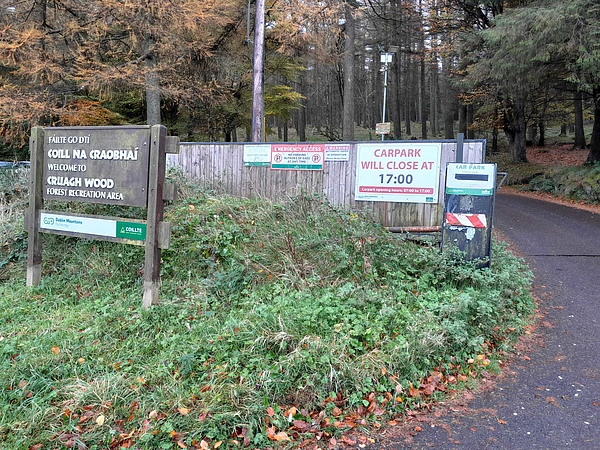 Notice of Continuous Cover Forestry (CCF) Thinning in Cruagh from 25th July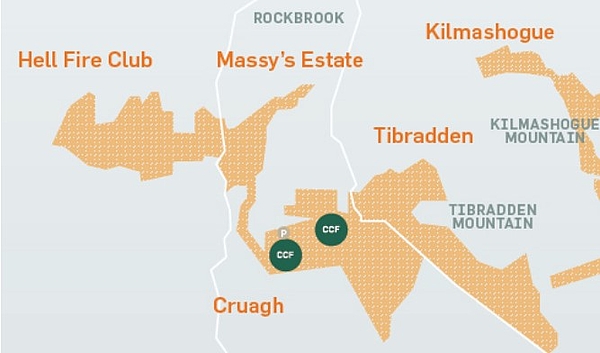 A Dublin Mountains Makeover (DMM) forest thinning will commence the week of 25th July at Cruagh as part of Continuous Cover Forestry (CCF) management of parts of this woodland. This thinning was due to start in late May but was postponed due to the wet weather and poor ground conditions.
You may have already noticed trees marked with a pink dash – these are the trees to be removed during this CCF thinning operation. Removing these trees creates gaps in the canopy to allow more light to reach the forest floor and create the conditions for regeneration of new seedlings in the future. Over time the aim is to gradually make the forest more diverse in terms of age, tree sizes and species in future.
This thinning will take place across 25 hectares of forest in the west and along the lower road of Cruagh Woods (see map).
Over the last six months other sections of conifer forest at Cruagh were harvested, with native woodland planted in their place as part of our R&R (Remove and Replant with Native Woodland) operations. You can see in an earlier DMM blog that students from Edmondstown N.S. Green Schools committee helped with some of the planting.
This work is part of the Dublin Mountains Makeover which will see an area of over 900 hectares across nine Coillte forests transitioning away from commercial forestry, to be managed for recreation, biodiversity and climate.
We thank you for your patience during this process. Please follow all signage while visiting the forest and please take care on the roads with timber lorries entering and exiting the forests.
--------------------------------------------------------------------------
Site Name: Cruagh Wood
National Grid Reference: O 128 225 Understanding grid references
Ordnance Survey Ireland Discovery Series: 50
Location
16 kms approx south of Dublin City on the third class road (yellow on OS map) linking the R115 and R116.
How do I get there?
From the city centre, take the N81 south, direction Blessington. At Terenure continue straight on in the direction of Rathfarnham. The village is bypassed but continue on straight until you reach a right hand junction with a church on one side and Yellow House pub opposite. Turn right here onto Ballyboden road. After 2kms or so the road forks with the R116 straight ahead and the R115 to the right. You may reach Cruagh by either route. After approx 4 kms either way you reach the third class road on which Cruagh Wood car park is situated. The R116 is recommended particularly for the fine view of the city below from the viewing point at its junction with the third class road leading to Cruagh Wood.
............................................................................................
Parking Information
Opening Hours
November to March: 07:00 to 17:00
April to September: 07:00 to 21:00
Car spaces: 44
Parking fee price: None
Note: When Met Eireann forecast snow/ice condition warnings are in place the car-park may be closed at short notice. In a Met Eireann 'Red' Wind warning, you should not enter any forest area. Updates on car-park and recreation site closures will be posted on the News page.
............................................................................................
Features:
Walking Trails

Sli na Slainte route

Viewing Points
Toilets: none on the site.
Activities:
Site Description
Situated to the south of Dublin city Cruagh or Coill Na Craobhai is one of a number of three mountain summits (Kilakee, Glendoo) identified as such on OS maps though it differs little in altitude from its immediate surroundings. At its highest point it is some 522m above sea level and offers probably the best views (weather permitting) over Dublin city and surroundings which lies in the flat plain below. The main rock formation is granite.
The earliest mention of Cruagh in historical records is in 1184 when Prince John, son of Henry 11 granted Creevagh or Cruagh with its churches to the See of Dublin, a gift successively confirmed by Edward 111 in 1337 and by Richard 11 during his visit to Dublin in 1395.
This area of south Dublin on the borderland of the Pale was known as the "the Harold's country" from the powerful family of that name that dominated the area and left their name on localities such as Harold's Grange and Harold's Cross.
There are are a number of waymarked trails in Cruagh Wood, the Sli na Slainte loop of forest road does provide a very pleasant walk with some outstanding views of Dublin City and the surrounding mountains. The Dublin Mountains Way passes through here and there is a mountain access route up to the open mountain. You can also access Tibradden (Pine) Forest and Massy's Wood from Cruagh Wood and eventually The Wicklow Way.
Recreation sites which you can access from here are:
Massy's Estate
Tibradden Wood (Pine Forest)
Cruagh Wood Trail(s)
Nearby Pit Stops:
Johnnie Fox's Pub and Restaurant
For more information on all Coillte's recreational sites visit http://www.coillte.ie/our-forests/explore/
Recreation Sites in the Dublin Mountains
Archaeology Sites in the Dublin Mountains