Activities
Try one of our Activities
Get out, get active.
In the Dublin Mountains area, you can participate in a range of activities which we are growing all the time currently you can get involved in:
Hiking and walking
There are many trails and walks ranging from the Wicklow Way and the Dublin Mountains Way to shorter looped trails to suit all skill levels. Visit our recreation site page for details of trails and walks in the area or visit http://www.coillte.ie/our-forests/recreation-map/ . You may be interested in joining a walking club - logon to www.mountaineering.ie for details of your nearest club.
Orienteering
Orienteering is a popular outdoor sport for all the family in the Dublin mountains and the Irish Orienteering Association have regular events in the Dublin mountains. The DMP and Coillte in conjunction with Setanta Orienteering Club and South Dublin County Sports Partnership built a permanent orienteering course at Massy's Estate. The DMP, Coillte, Great Eastern Navigators, DLRCC and Dun Laoghaire Rathdown Sports Partnership built permanent orienteering courses at Carrickgollogan and Barnaslingan. A 4th course is available at Ticknock installed by the DMP, Coillte and 3Roc Orienteering Club. For information on upcoming events log on to www.orienteering.ie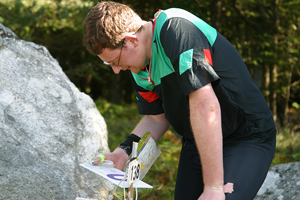 Trail Repair

With increasing usage these mountains will see more pressure from human induced erosion especially on our mountain trails. Mountain Meitheal Dublin Wicklow (MMDW)are a voluntary group who undertake conservation and restoration projects on forest and mountain tracks and work with the DMP to conserve and repair trails. In 2018 and early 2019 they repaired part of the Fairy Castle Loop and Dublin Mountains Way in Ticknock. In September 2019 MMDW started work on a new trail in Tibradden, they will be back at the end of February 2020 to finish work on this trail. For information on MMDW and how to volunteer with them check out their website or Facebook page. [updated 22.11.19]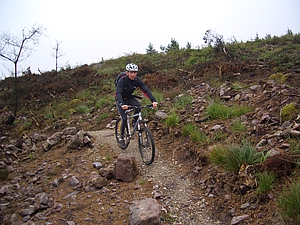 Mountain biking
The Dublin Mountains Partnership and Coillte opened the first 8km section of mountain bike trail at Ticknock on 8th May 2011. For more information see Ticknock MTB trails.
Coillte have four other designated mountain bike recreation areas in Ballinastoe, Co. Wicklow; Derroura, Oughterard, Co. Galway; Ballyhouras, Co. Limerick/Cork and Portumna Forest Park, Co. Galway. Family cycle trails are also available in Curraghchase and Portumna Forest Parks. Check out http://www.coillte.ie/our-forests/recreation-map/ for maps and information on the trails. For more details on mountain biking in Ireland see http://www.offroadcyclingireland.ie/.
Recreation Sites in the Dublin Mountains
Archaeology Sites in the Dublin Mountains